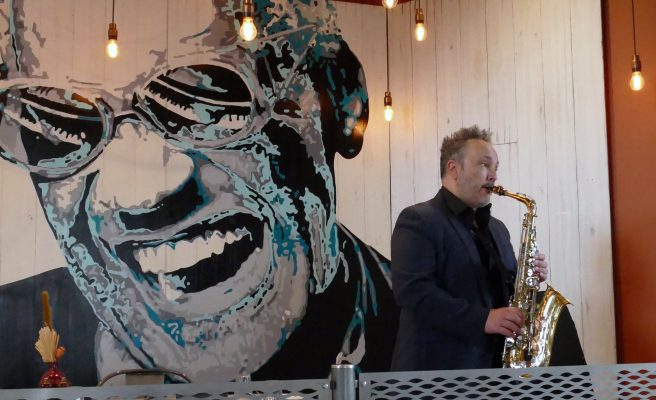 Over 30 years ago, seeing famous UK saxophonist Courtney Pine perform on Children Of The Ghetto live, set Rico on a path of his own; a path of a career in music, and in particular in Saxophone. Graduating in music and recording years later, Rico soon began performing live both as a soloist and within bands, all over the UK and internationally, specialising in all styles that the Saxophone lends itself to.
The Saxophone is the instrument that many people love to hear live, be it the American song book classic renditions of Frank Sinatra or Ella Fitzgerald , to modern arrangements ranging from Stevie Wonder to Ed Sheeran... From Jazz to Soul to Pop, to traditional Italian music (it's his heritage after all!)
And if theres a particular song you are after, just ask ahead of time! Rico looks forward to entertaining you and your guests!
PLANNING
Bespoke entertainment planning service
LINE-UP
Soloist (Available to accompany a Live Act or DJ)
PERFORMANCE
2 x 60 or 3 x 40 minute live sets
SONG REQUESTS
Choose from Rico's repertoire
FIRST DANCE
Option for Rico to learn and perform your choice of track*
SOUND
High-quality sound and production tailored to your venue
LIGHTING
Our standard party lighting package
SEAMLESS MUSIC
Professionally managed, high-quality party playlist - for before, between and after live band sets
*This may depend on track choice
BIGGER SOUND
Go big or go home - add extra musicians and singers to take your live act to the next level
LIVE DJ
Replace your party playlist with a professional live DJ (why not go 'Amplified' and add vocals, percussion or even dancers too?)
LIGHT IT UP
Transform your venue by upgrading to our deluxe lighting package
DAYTIME MUSIC
Never a dull moment - Lizzie could provide the ambience you need. Suitable for drinks receptions, mingling, dinners, wedding ceremonies, wedding breakfasts and party wind-down
DAZZLING DANCEFLOORS
Add more 'WOW' factor with an LED sparkle or chequerboard style dancefloor
Have a look at what Rico loves to play...
Enquire here
Find out about availability, pricing and other info below