LOOK NO FURTHER FOR SELFIE-CAPTURING FUN
Don't be daft! Oh ok, do be. Who doesn't enjoy looking back at those silly moments of hilarity that would otherwise be lost in the abyss of an epic occasion?! Invite guests of all ages to fill those in-between moments with some selfie-absorbed photography fun, memories that can be captured, taken home and for the brave - even shared on social media in real-time.
Struggling to find a selfie-stick long enough to capture all your mates at once? This cutting-edge photo booth offers state-of-the-art features in a small package that gets everyone involved.

Green screen photo & video
From slow-motion video to a client's logo, you can load an unlimited number of custom backgrounds and let the guest select their own environment!

Animated GIFs
Create multi-frame photo animations with green screen backgrounds, custom logos, and instant uploading to Facebook, Twitter, Instagram, Email, and Print.

The perks
Passers-by can watch and will want to join in the fun
Lots of guests can squeeze into the photos compared to more traditional photo booth types
Enjoy superior photo quality with the high-end DLSR camera and professional lighting with a specially designed bounce card
The Booth itself can also be custom wrapped with any branding or design

Includes:
A sleek 10′ wide curved backdrop
High-quality prints to take home
Premium props package
To find out more about this high-end photo booth option and it's wide range of capabilities, drop us a line.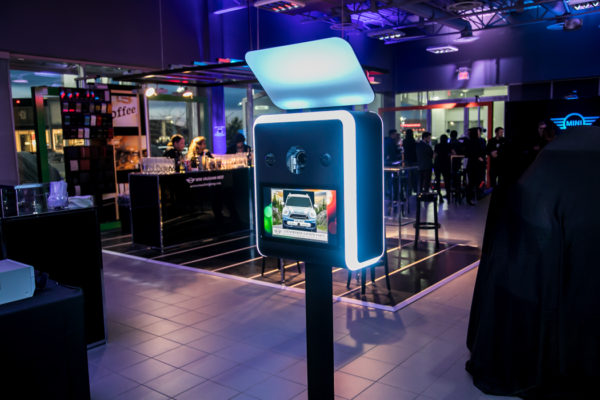 This sleek looking Mirror Photo Booth offers the 3 main modern ways of having your photo taken:
1. Slow Motion
Capture your shenanigans at 120 frames per second in full H.Dto create the perfect slow-motion video.
2. GIF's & Boomerangs
Photos that go round in a loop (GIF) or play backwards and forwards (Boomerang). Record your GIF and instantly share with the world with our integrated social media sharing feature.
3. Photos
Grab your mates and enjoy the modern, fun way of having your photos taken. Printed instantly in various layouts.
Why not brand the Mirror to your Wedding, Party or Event?
Get in touch to discuss your requirements.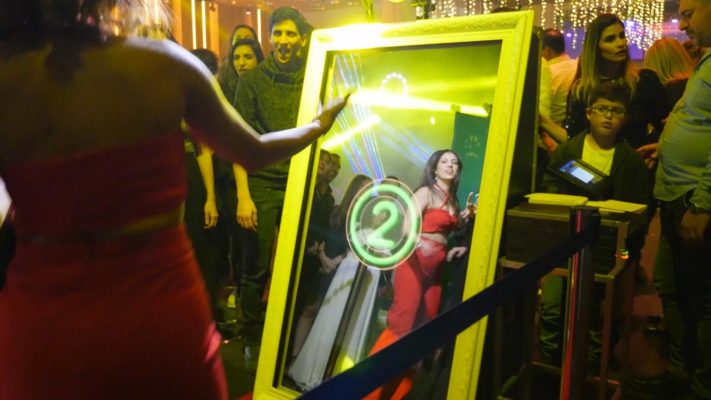 The Classic Photo Booth is spacious and fully equipped to ensure awesome pictures are made with ease. Perfect for Wedding's, Prom's, Birthdays and Corporate Events.

Includes:
3 interchangable camera filters
A coloured background of your choice
A themed photo templates that you can customise
A great selection of props
Professionally designed prints
Don't hesitate to call us to find out more.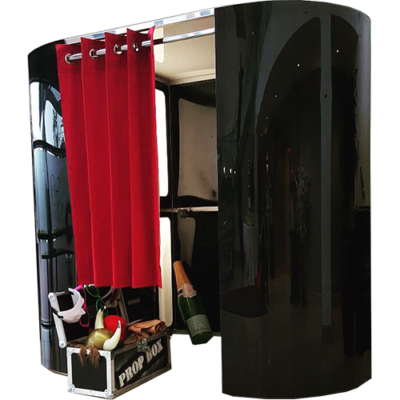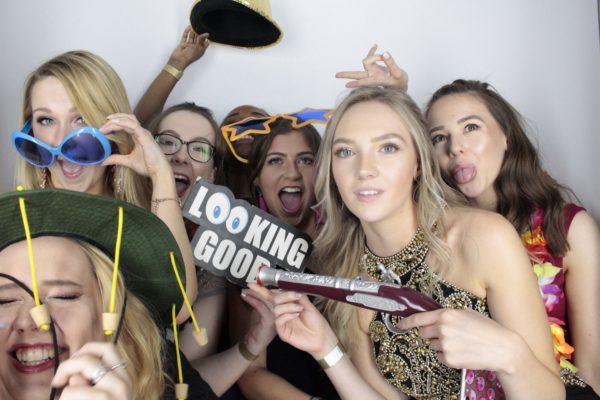 "As President of Tourism, Hospitality & Events Society, I just wanted to say a massive thank you for all your help with our End of Year Ball and for creating an amazing atmosphere. The photo booth was a huge success and the line was never-ending."
Lydia Clark-Sutton - University of Surrey, London
HAVE YOU SEE WHAT ELSE WE CAN PROVIDE?